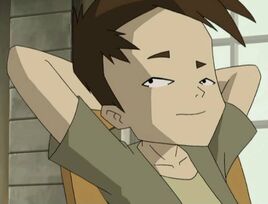 Ulrich es real.
Ulrich tiene un montón de problemas en el mundo del amor. Sissi es un estorbo para conseguir su amor:Yumi.
Mira
Tiene el pelo castaño y cejas grandes. Lleva una camiseta marrón-camisa y pantalones marrones.
En Lyoko, él tiene la camisa de color amarillo y negro con una foto de duende en la espalda. También lleva pantalones marrones. Su arma es una katana.
Personalidad
Él está enamorado de Yumi. A veces es celoso de Williamthumb|500px|left porque él está enamorado de Yumi también.
Ad blocker interference detected!
Wikia is a free-to-use site that makes money from advertising. We have a modified experience for viewers using ad blockers

Wikia is not accessible if you've made further modifications. Remove the custom ad blocker rule(s) and the page will load as expected.