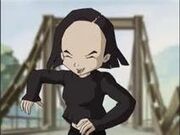 Yumi es real.
Yumi es la única mujer luchadora. Ella es una muy buena amiga con Aelita.
Mira
Ella tiene el pelo negro y ella es de Japón. Lleva un suéter negro y pantalón negro.
En Lyoko, tiene un color negro y amarillo de la camiseta. Tiene unthumb|502px|left pantalón negro y sus armas son dos ventiladores.
Personalidad
Ella tiene un montón de seguridad y que pelea muy bien en Lyoko
Ad blocker interference detected!
Wikia is a free-to-use site that makes money from advertising. We have a modified experience for viewers using ad blockers

Wikia is not accessible if you've made further modifications. Remove the custom ad blocker rule(s) and the page will load as expected.